If you think Instagram is just for fun and relaxing, think again. Every day, Instagram is rolling out new features that can help improve your online business. One of the most important features on the platform is the Instagram Reel, which receives 22 percent more interactions than a traditional Instagram video.
If you're wondering what Instagram Reels are or how to post Reels on Instagram, don't miss today's article. We're going to provide a detailed overview of Instagram Reels, which can help improve engagement, increase likes and comments, and ultimately help your brand get noticed. Let's begin.
Introducing instagram Reels
Reel is a new marketing strategy tool that can boost the visibility of your page on Instagram. Reels are vertical, full-screen videos of up to 90 seconds. You can watch, like, comment and share them. In the feed section, you will be able to follow Reels within the Instagram app and switch between hundreds of them every day to keep the experience fresh.
Reels and Instagram stories are not the same and they are different. An important difference is that Reels don't disappear after 24 hours like Stories. Instagram Reels and posts remain on the main page until the creator removes them. So if you want to go to the Reels section, click on the Reels icon at the bottom of the main page of Instagram.
🟢 Which one is better? deactivate or delete instagram account?
Why Reels are important?
The vibe and style of Instagram Reels are really fun and captivating. Humorous clips often generate quick engagement. Keep in mind that the permitted number of hashtags is restricted on Instagram Reels, so avoid creating an account and posting Reels just for hashtags since they're not that efficient in Reels. Instead, focus on creating high-quality video content to get faster results. Writing a caption also helps to increase the number of visitors, but it is not so necessary.
Here's why Instagram Reels are critical to your business:
👉️Instagram Reels boosts the interaction and communication between people.
👉️It also helps brands earn customer trust.
👉️We can learn more about brands better and faster and make informed decisions about them.
👉️Reels content is available for new Instagram users.
👉️It opens a new opportunity to change content and increase creativity.
_ _ _ _ _ _ _ _ _ _ _ _
How to post Reels on Instagram?
Fortunately, Instagram has multiple ways to share reels, and they are all easy to use. To get started, make sure you have the latest version of Instagram installed, as this feature is only available in newer versions. Fortunately, Instagram has multiple ways to share reels, and they are all easy to use. No Instagram Reels download app is needed to post Reels.
You can activate Instagram Reels using one of the following 3 methods:
Reels Tab
To enable Reels on your iPhone or Android and post Reels Instagram video, just follow these simple steps in the Reels tab. It's the fastest and easiest way!
Go to your Instagram.
Find the "Reels" icon located in the lower toolbar (in the middle) and tap on it.
Find and tap the camera icon in the upper right corner.
For those who wonder how to watch Reels on Instagram, here is the section where you can watch, edit and share your reels on instagram.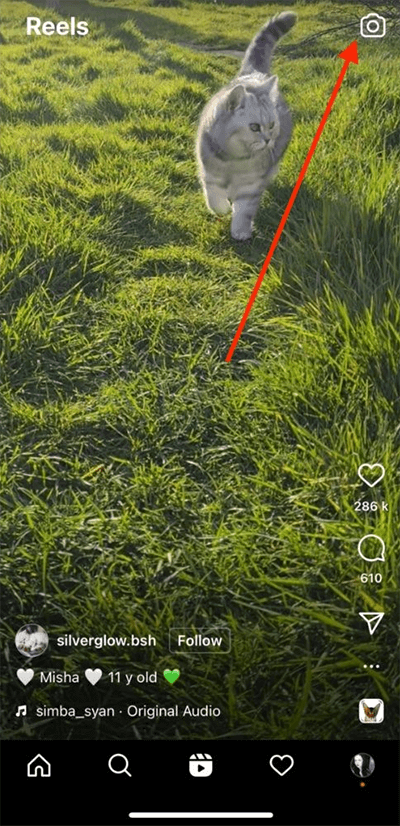 🟢Need to remotely hack your child's Instagram password? AnyControl app is all you need.
Home screen
Follow the step-by-step guide below to enable and post reels on iPhone and Android through the Instagram home screen:
Open your instagram.
Click the + button at the bottom of the page
Now choose "Reels" on the right side.
Story camera section
It is very easy and convenient to create reels using the story camera. Remember, the method you use to post Instagram reels doesn't matter and won't affect the final result.
To do this, follow the steps below:
Log in to your Instagram app.
Swipe the main page of Instagram to the right to go to the story section.
In the bottom bar, there are several options such as post, story, reels, live, etc.
Select the Reels option and post your desired reels.
Note that you can edit your video and post it to Instagram from there once you're in the Reels section.
In the Reels editor, you can do the following things:
Enable music for Reels.
Choose how long the video should be, up to 90 seconds.
Pick the speed of the video.
Select a certain frame.
Add a timer that displays the remaining time left in the video (you can also set the timer for 60 seconds).
Choose filters and lenses similar to the ones in the stories part.
🔵Do you want to fix insta reels issues? go to the linked article and find useful solutions.
Boost your daily views on Instagram with Reels!
Today, many businesses are advertising online. They are sharing content on Instagram reels because they understand that the virtual space, especially Instagram, offers a great opportunity to gain more visibility. Instagram's reels feature serves as a platform to gain more followers and earn money nowadays. You can get millions of views in no time by sharing your fascinating content on Instagram reels.