Maybe you're wondering what makes Instagram influencers successful. Their answer is likely to be Instagram Reels. This feature allows you to make short, engaging videos to highlight your products. But how do Reels differ from regular Instagram posts and videos? This article walks you through Reels vs post. To learn the differences between Reels and Posts and to get helpful guidelines on the dos and don'ts of Instagram Reels, let's get started.
What is the difference between Reel and post on Instagram?
Is it better to post a Reel or video on Instagram? Reels and posts are great Instagram features. Even though they share common features, like sharing videos, they also have differences.The main difference between reels and posts is the time. In the post section, you can upload videos up to one minute long and even five-minute videos (split into five slides). On IGTV, this limit increases to 10 minutes. However, you can only share videos between 15 and 90 seconds long in the Reels section.
It's good to know that the difference between reel and post on instagram is not only one. Another way that reels differ from Instagram video posts is captions and hashtags. Hashtags on Instagram reels have limits. Therefore, instead of spending a lot of time on crafting hashtags and detailed captions, it is better to focus on enhancing the quality of your video content to achieve better outcomes. Writing subtitles and using relevant hashtags is still crucial for regular video posts.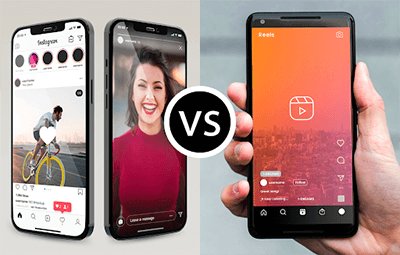 Should I post my video as a Reel or post?
If you want to figure out Instagram Reels vs post engagement and which one is better, follow this part carefully.
The truth is that both reels and posts can result in high views and even your post's chance of going on Explore is high in both modes. Therefore, if your video is amusing, enjoyable, and light-hearted, we recommend sharing it through Reels. Also, if you don't want to spend a lot of time editing your videos, you can use the editing features in the Instagram app for Reels. This is an advantage and helps you save time. If you own a brand and have read the article about how to post Reels on Instagram, It's important to keep in mind that numerous business owners prefer to utilize reels. Most found that regularly posting Instagram reels was more effective at improving their brand visibility than regular posts. But if you have videos that are more comprehensive and longer than reels content, we recommend Instagram video post.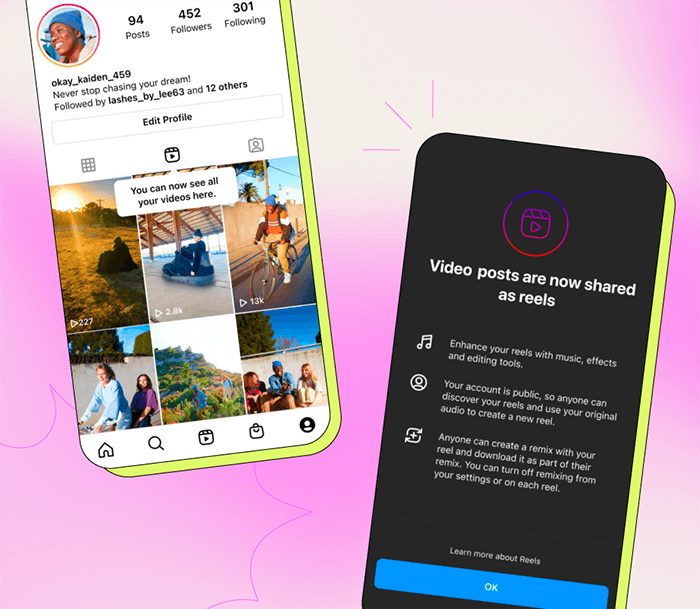 Instagram Reel vs Story
Now that you have learned about Instagram reels, the ways they work, and do reels get more views than posts, let's explore the difference between Reels and Stories. But first, let's review instagram story features.
Instagram story feature
Instagram Stories are short videos that your followers will be able to watch for 24 hours before they are archived. The editing options are limited, and the maximum duration is 15 seconds. This feature allows your audience to take a quick peek into your daily activities or brand. Your followers can view your new stories through your You can show your Reels in the story to let your followers watch the complete video on your Reels page by clicking it.
📌See who viewed your Instagram profile with the help of this article.
Main difference between instagram reels and story
Understanding the differences between reels and Story is easy and helpful. To do this, follow this part:
Time limit
Instagram Reels have no time limit and will stay on your page until you delete them. Stories, however, will only last for 24 hours.
Explore
If your Instagram reels receive many likes and views, they may appear in the Explorer section. However, your story will only be visible on your page and will not be featured in the Explorer.
📌AnyControl is one of the best methods of hacking Instagram.
Dos and don'ts of Instagram reels
Creating Instagram videos is simple, but making a successful one can be challenging. Here are some tips to help you get started on the right path.
Dos
Use vertical video to help you capture your viewers' attention within the first two seconds and keep them engaged until the end of your Reel.
Utilize creative tools such as filters, effects, text, and music, while staying true to your own personality.
Take inspiration from others but strive to create your own unique content.
Don'ts
Don't publish reels taken from other sites (e.g. TikTok) with watermarks.
Avoid uploading blurry or low-quality videos.
Don't cover the video with excessive text.
Don't break Instagram rules.
Avoid posting repetitive and dull reels.
📌Need to delete instagram reels? read the linked article to get more information.
Conclusion
In this article, we explained the differences between Reels, Post, and Story. Overall, the manner of sharing, the content style, and the guidelines in this social media platform affect the number of views a post receives. We hope this article helps you. If you have any additional thoughts on the distinctions between reels and posts, please leave them in the comments section.