Are you one of those people who are sick of Instagram reels? As you know, Reels have become an increasingly popular feature on various social media platforms, allowing users to create short, engaging videos that can be shared with their followers. While creating and sharing Reels can be a lot of fun, there may come a time when you want to know how to delete Reels on Instagram for various reasons, such as privacy concerns, content management or the fact that you simply think Instagram reels are cringe. In this article, we will answer the question of how to hide reels from feed and walk you through the process of deleting Reels on Instagram.
Top reasons for removing Instagram Reels
To begin with, It is better to look into the reasons why users want to delete Reels on instagram or hide them. Here are the most common reasons why people remove and delete their Reels:
Inconsistent Reels
Sometimes users get tired of their messed up style of insta reels and want to give order to it because of the fact that a set of consistent and quality reels can increase followers. As a result, they decide to remove a number of videos and solve their reels problem.
Privacy concerns
Sometimes you want to keep your profile and content private or you just want to hide reels on instagram from someone. you can turn off reels on Instagram. You do not have to deactivate your account, but it will help keep your privacy secure by removing reels from your profile.
How to delete shared Reels on Instagram?
If you've posted a Reel on Instagram but changed your mind about it and want to delete it completely, you can follow the steps below in order to learn how to delete a reel on Instagram while posting. Note that you can follow this instruction for both your iphone and android devices.
Open the Instagram application.
Next, navigate to your profile section and select the Reels tab.
Now choose the reel you wish to delete and tap on "delete".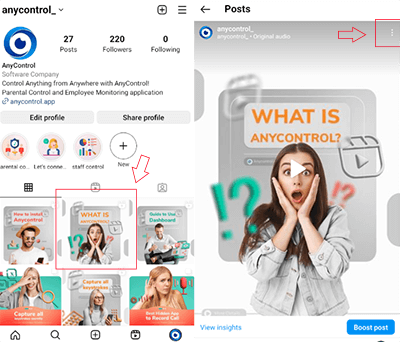 4. Now tap the three-dot option and choose "Delete".
5. The screen displays two options, 'Archive' and 'Delete'. Choose 'Delete'. Again press "Delete" to confirm.
Keep in mind that by clicking the "archive" option, your Reels post will be saved in the archive section.
🔵Do you have Instagram reels issues? Instagram reels not uploading for you? Read the linked article to find out the solution.
How to delete Reel drafts on instagram?
If you have a Reels draft that you would like to delete, follow the steps to learn how to delete draft reels on instagram android and iphone:
1. First, open Instagram.
2. Tap the profile icon at the bottom right.
3. Then go to the reels tab.
4. If you have Reel drafts, you will see the "Drafts" option. Click on it to view your drafts.
5. At the top right of the screen, click on "Select". Select the reel draft that you want to delete, and then click on the "Discard" button.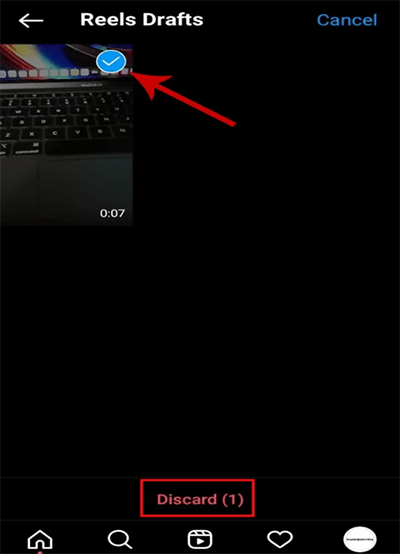 How to hide reels from feed on instagram?
Instagram users might want to know how to remove reels from feed for the reasons stated above. To do so, follow the steps below:
1. Log in to your Instagram.
2. Go to the main page of your page.
3. Go to the "Reels posts" section on the main page and click on the three dots next to your post.
4. Select "Remove from profile grid".
📌AnyControl app is the most efficient way to control Instagram accounts and direct messages.
How to unhide Reels on profile grid?
After you have deleted reels, there may be a need to unhide your Reel. In order to know how to put reel back on profile grid after removing, follow the instructions below:
1. Go to the Reels section of your page profile and select the Reels you want.
2. By clicking on the three lines on the bottom right, you will see several options.
3. At this point, find the "manage" option.
4. Now tap on the "add to profile grid" option.
Your post will now appear on both the main page and the Reels section.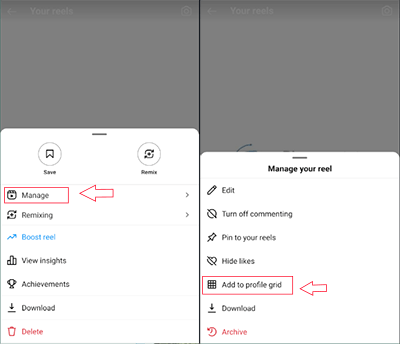 How to disable instagram reels?
Unfortunately, turning off reels on Instagram still takes a bit of work, but if you're sick of instagram reels and think that reels ruined instagram(!) and want to know how to disable reels on instagram, there's another way. You don't have to know how to change reels settings on instagram. Simply access the official Instagram website using your preferred web browser and log in to your account. With this feature, you can explore without encountering Reels.