Are you on Threads yet? In the ever-evolving landscape of social media, the much-anticipated Instagram Threads app has been gaining a lot of attention. Threads Instagram offers users a unique experience and a focus on personal communication. If you are eager to explore this exciting app and join the Threads community, here is a step-by-step guide on how to download and install Instagram Threads and create a Threads account for Android and iPhone. Continue with us if you want to get all the answers for your questions regarding Instagram Threads app.

What is Threads app?
Threads is a new app from the parent company of Facebook, Instagram and WhatsApp. The platform closely resembles Twitter, with mostly text-based posts—though users can also post photos and videos—where people can have real-time conversations.
Messages posted to Threads will have a 500 character limit. Similar to Twitter, users can reply to and quote posts from other Threads. This app seems to be creating a sense of excitement in people. This program also combines the beauty and user-friendliness of Instagram and offers the possibility of sharing posts from the Trades program directly in Instagram stories.
Mark Zuckerberg, CEO of Meta, said in a post on Instagram's Threads app after the launch: "Threads' vision is to create a friendly public space and option for conversation." We hope to take the best of what Instagram does and create a new experience for text, ideas, and discussion about what's on your mind.
Some users experienced occasional glitches and problems loading content in the early hours after the launch of Instagram Threads, but when millions of users join and use an app, such data transmission problems are to be expected due to network congestion.
🔺Learn More: How to delete Instagram direct messages on iphone, android and computer?
Will Threads 'kill' Twitter?
Threads Instagram is the latest platform to launch in recent months, hoping to defeat Twitter as an app for public, real-time conversations. But it may have the greatest chance of success.
Many Twitter users have expressed their desire to switch platforms since Elon Musk took over the platform last year. Frequent technical issues and changes in Twitter policy have increased the desire of users to delete their Twitter account.
An important advantage that Meta has over Twitter is the size of its existing user base. With this new app, Meta hopes to capture at least some of its more than 2 billion active Instagram users worldwide. This is a high figure compared to Twitter's active user base of around 250 million people.
"It's going to take a while, but I think there should be a public conversation app with over 1 billion people on it," Zuckerberg said in a Threads post. Twitter has had this opportunity but has not succeeded. We hope we do.
Twitter's new CEO, Linda Yacarino, appeared to confirm the rival app's launch in a tweet on Thursday, calling Twitter "irreplaceable."
"We may be imitated, but the Twitter community can never be duplicated," she said.
Meta's existing scale and infrastructure can work in its favor. While many other Twitter competitors that have launched in recent months have required users to join waiting lists or submit requests to sign up, only having to work to rebuild their page on the new site, Threads is getting started for users. It makes it very easy.
But Instagram CEO Adam Mussery noted in a video posted on the platform that the challenge with new social media platforms is often not getting users to sign up, but rather keeping them engaged for the long term.
In particular, Meta should work to prevent spam, harassment, conspiracy theories, and false claims in Threads, issues that have upset many users on Twitter. The launch of the new platform comes after Meta laid off more than 20,000 employees since last November, including UX, welfare, policy and risk analysis staff. Also, as the 2024 US presidential election campaign season approaches, some experts warn against a wave of false information. Meta says its community guidelines apply to Instagram Threads just like its other apps.
🔺Learn more: How to check login activity on instagram | Instagram active sessions status
Is Threads app safe?
Privacy concerns have been raised about Instagram's Threads app because of its ability to collect user data. This has led to privacy debates among users who plan to use Instagram Threads instead of Twitter. Twitter's alternative, BlueSky, also collects user data, but to a lesser degree. Privacy policies of both platforms are monitored as users can update their account information.
How to download Instagram Threads for Android and iPhone?
In order to download Instagram Threads app for Android or iOS, you can follow the instruction below:
download Instagram Threads Play Store For Android
Open the Google Play Store on your Android Mobile Devices.

type "

Instagram Threads

" in the search bar and find the official Threads instagram app.

Tap on the "

Install

" button.

Wait for the app to download and install on your Mobile device.
download Instagram Threads App Store For IOS
Open the App Store on your iOS iPhone.

In the search tab, search "

Instagram Threads

" and find the official Threads app.

Tap the "

Get

" or "

Download

" button using your Face ID or Apple ID.

Wait for the app to download and install App.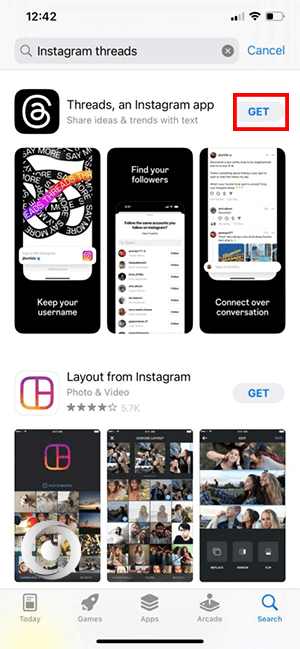 How to create a Threads account?
After installing Threads app, you need to create an account. In order to create an account and have a successful Threads Instagram login, follow the instructions below:
Open Threads app.

Your Instagram ID will be displayed at the bottom of the screen. If it is not correct, select another one by tapping on "

Switch accounts"

.

Now tap on "

Log in with Instagram

".

Tap "

Import from Instagram

" and then "

Continue

".

Select

Business

or

Private

account based on your privacy needs and tap "

Continue

".

Tap "

Follow all

" if you want to follow all your Instagram friends, otherwise tap the arrow in the top right corner.

Finally, select "

Join Threads

".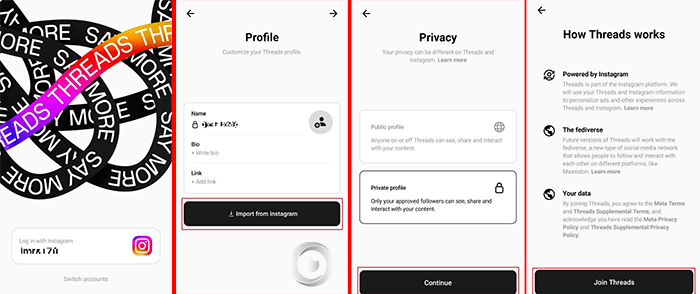 🔺Note that in order to create a Threads account for IOS, you need to follow the above steps.
How to deactivate threads account ?
Currently, it is not possible to delete Threads account, but you can deactivate Threads account according to the guide provided in this part of the article. Also, in emergency cases, the only way to completely delete Threads account is to delete Instagram account!
Deactivating your Trades account will not affect your associated Instagram account and will allow you to continue using Instagram as before.
Here's how to deactivate your Threads account:
In the instagram Threads app, tap your profile in the bottom bar. Now refer to the menu section.

Tap on

"Account

" and then select "

Deactivate profile

".

Simply tap on "

Deactivate Threads profile

" on the next screen.