An essential aspect of growing your Instagram involves having and growing connections with other accounts and brands on the platform. Luckily, Instagram has simplified the process by introducing the shared post feature. This allows you to share posts with another user, meaning that both your content, whether it's a photo or a story, will be shared from both accounts. However, you can only co-post with one other user, unlike tagging. In this article, we'll teach you what Collab is and how to collab post on Instagram. We'll also explore the benefits of sharing posts on iPhone and Android. Let's get started.
Instagram collaboration rules
Instagram announced the collab posts feature in late 2021, stating that it enables two accounts to share a post or Reel. With this feature, the post or video is displayed on both Instagram accounts, making it available to both Instagram accounts and will be displayed for the followers of both accounts.
According to Instagram, a Collab post between two accounts means:
🔺Displays the names of both accounts at the top of the post.
🔺The post will be shared with the followers
🔺The post is shared with followers of both accounts, appearing on both Instagram accounts.
🔺Visits, likes, and comments will be shared by both accounts.
🔺It is an effective method to exchange content on Instagram with coworkers, such as other small enterprises, brands, and content producers.
💠Learn more: Is it easy to get verified on insta?
Top benefits of collab on Instagram reels and posts
Collaborative posts are a convenient and effective method to expand the reach of your content, which can provide several advantages:
🔸A larger number of individuals will view your post. Instead of merely delivering content to your own audience, a collaborative post enables you to distribute information to the adherents of the person you shared the post with, resulting in more visibility for your posts and gaining more attention. This may contribute to enhancing overall brand awareness.
🔸 Attracting followers: Collaborative posts provide exposure to a wider audience, which can introduce your brand to new people and potential new followers. These posts also serve as endorsements from the brand or creator you're collaborating with, prompting their followers to follow your account.
🔸More interaction: Since collaborative posts receive exposure to more people, your brand is introduced to a broader audience. With increased traffic on your Instagram page, there is a higher likelihood that more people will interact with your posts. This means that these posts can receive more likes, comments, and shares than a regular Instagram post that is only visible to your followers.
💠Learn more: efficient instagram hacker tool
How to enable collaboration in Instagram?
You can collab post on Instagram, whether it's private or business. If you want to learn how Instagram collab post 2023 works, check out our step-by-step guide.
1️⃣First, open your Instagram on your iPhone or Android. On the home screen, tap + icon at the bottom of the screen.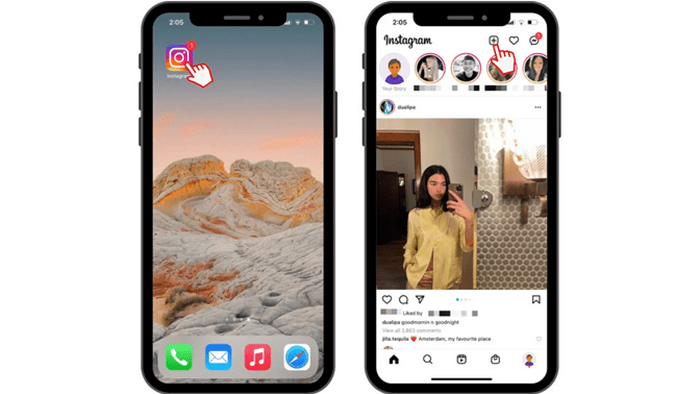 2️⃣Swipe left or right to select the posts or reels that you would like to upload.
3️⃣Now choose the content you want to upload.
4️⃣Click the arrow icon in the top right corner of your screen. You can also edit your post using different filters before taking any actions.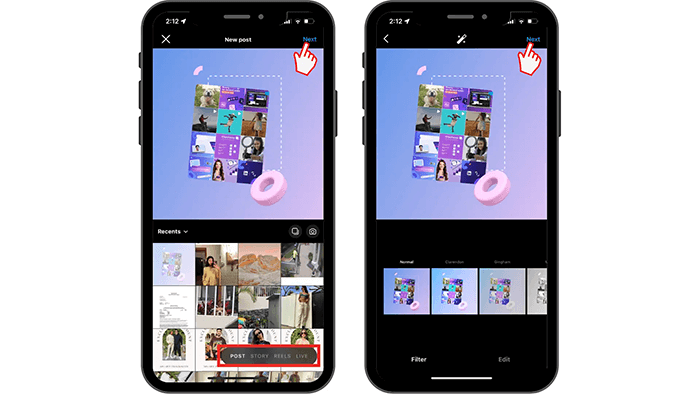 5️⃣Click on "Tag People" option to collab post on Instagram.
6️⃣Then tap on the "Invite Collaborator" option.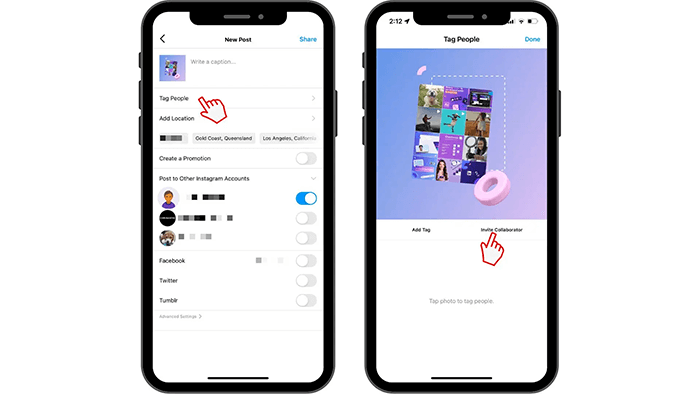 7️⃣Search for the user with whom you want to collab and add their username.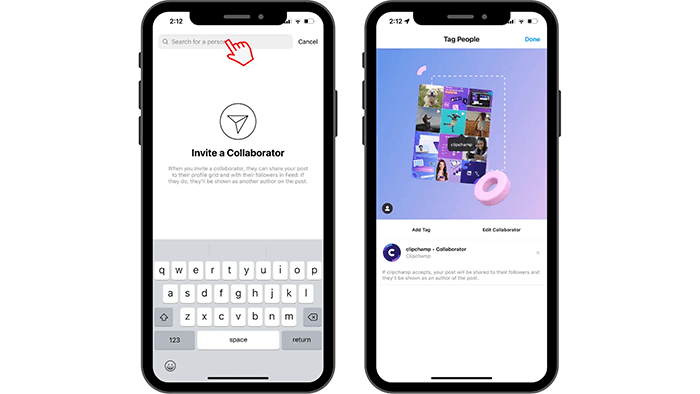 8️⃣Wait for the person you want to collab with to accept your request.
🔺Keep in mind that if you have a business account on Instagram, you can invite others to share your post, but it's up to them to accept. Note that if you create a shared post using two personal accounts, only followers of those accounts will be able to see the post. If the second account is a business account, the post will be visible to everyone on Instagram. Think carefully about privacy concerns.
💠Read more: learn to check login activity on instagram
Accepting or declining a collab post request on Instagram
In order to know how to accept collaboration on instagram, you must follow the instructions below:
Open the DM of the person who wants to collab a post with you. Tap the "

View Invite

" button to view the post for which you received the Collab request.

Now tap on "

Review

". From here you can accept or decline the collaboration post request.

Once the request is accepted, the post will be shared with all your followers.
On the other hand, you can reject a collab post request by the step-by-step instructions below:
Also If you no longer want to collab a post with a person, or if you sent the request to the wrong person, you can cancel using the guide below.
Go to your shared post on Instagram. Tap on the three-dot menu icon in the top right. Then choose "

Edit

".

Here, tap on the "

N Person

" option at the bottom left. Now tap on the cross icon next to the invitee's name to untag them and cancel the collaboration request.

Finally, tap the tick on the right to save the changes.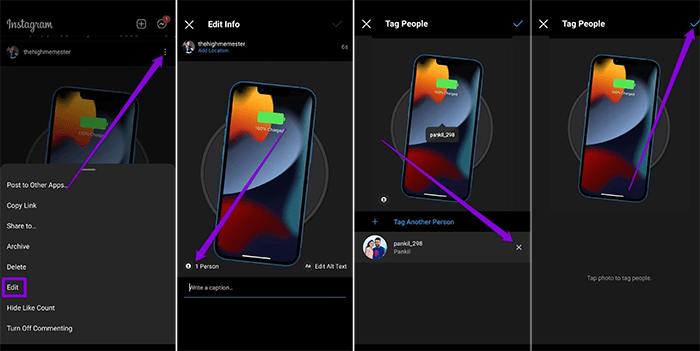 How to delete a collab post on Instagram app?
If you change your mind, you can delete a collab post on Instagram app. In this case, you must follow the steps below :
To do this, open the post, tap the three-dot icon in the upper right corner, and select the "

Stop Sharing

" option.

Finally, from the confirmation pop-up, tap "

Stop Sharing

" again.