Messenger applications are now a preferred method of communications. Telegram is one of the most popular ones that values the privacy of its users with strict rules. You may face an error when you join Telegram channels. If you can not join Telegram channels read the rest of this article for solutions.
Why you cannot join Telegram channels
Telegram makes cross-border communications easy via a simple and user-friendly interface. The app also has an option called "Channel" that helps people broadcast and send messages to a large audience. 
However, joining Telegram channels may cause users some troubles. If you could not join channels on Telegram don't worry. In this article, we review the reason for problems in joining Telegram channels and provide some key solutions for each of them.
🎯How to enable two-step verification on Telegram
How to fix "this channel cannot be displayed" in Telegram
Telegram may ban channels or restrict them if it finds that the channel violates the platform's terms of use and rules. It may also temporarily disable certain channels for a short period of time. Adult or other sensitive content that promotes hate, violence, and sexual content is prohibited. If you come across one of these channels, you will encounter the error "this channel is blocked" or "this channel cannot be displayed". Also, the error "it's currently unavailable" refers to the same issue.
The good news is that this error can be fixed with simple steps. Here are the key solutions to access blocked channels that you need.
💡 Turn on the "Disable filtering" option in Telegram desktop 
You can activate the Disable filtering option in Telegram web or its desktop version to fix the "this channel cannot be displayed" error in Telegram. Some people report that this method works for their devices. Here are the detailed steps:
 Install the web or desktop version of Telegram and open the program.
 Click on the three lines icon in the upper left corner.
 Go to the "Settings" section.
 Then click on "Privacy and Security".
 In the "Sensitive content" section, activate the "Disable filtering" option.
 Now restart the Telegram app on your smartphone and see if you can search for channels.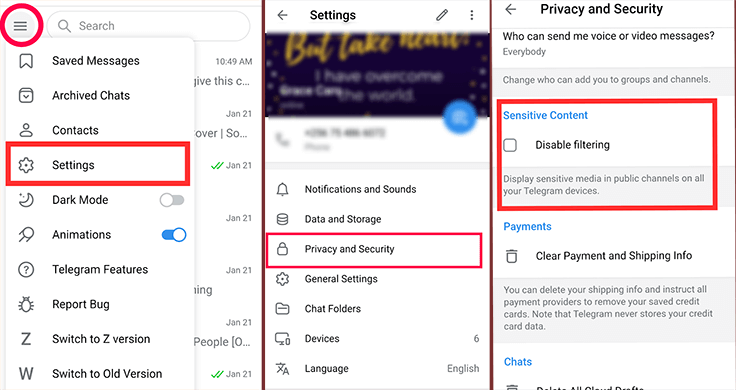 💡Use "Nicegram" bot 
Nicegram bot is a Telegram bot that can be used to access inaccessible or prohibited content on Telegram channels. To fix the "This channel is blocked" error in Telegram, you can use the following instructions.
 Open the Telegram app and then type "Nicegram Bot" in its search field.
 Find the bot named "@Nicegram_bot".
 At the bottom of the page, click "Start."
 Next, tap "Yes" for "I'm 18+ Years Old" and "Show Sensitive Content".
 Open the Telegram app again and check if the "this channel cannot be displayed" error in Telegram has been resolved or not.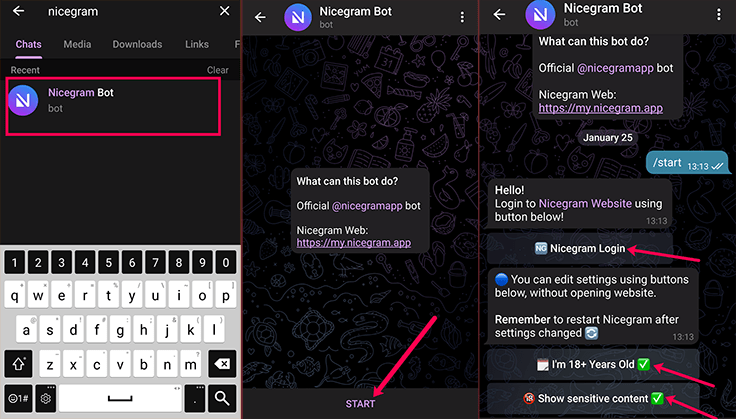 💡Use VPN
In some countries, Telegram imposes strict restrictions on some channels. You can use a VPN to set your location to another region that doesn't have any restrictions. Then you can successfully fix the error and remove the Telegram channel membership limit.
💡Try other devices
Sometimes, switching to a different device can fix the "This channel is blocked" error in Telegram because some apps can't work properly on a certain operating system. So, if you encounter this error on your iOS device, you can use it on your Android device and vice versa.
🎯How to restore deleted telegram app
Fix "Too Many Communities" error in Telegram
If you wanted to join a Telegram channel and encountered the error "You have reached the limit" or "Too many communities", you should know that the number of your Telegram channels and groups has exceeded 500. Each user can only join 500 channels on Telegram.
Therefore, if you already have joined 500 channels on Telegram, you will encounter the "Too many communities" error.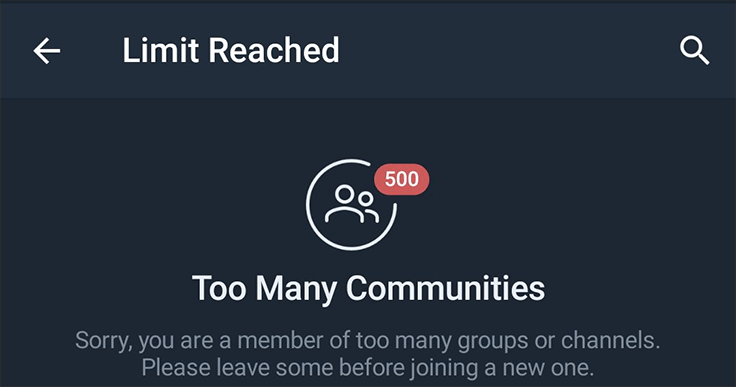 💡Remove unnecessary channels
Check the list of your Telegram channels and delete some advertising channels or additional groups to solve the problem of "Too many communities" in Telegram.
💡Prevent people from adding you to channels
By doing this  you can only join groups and channels that you know about. To do this, go to the Telegram settings and change the "Channels & Groups" access from "Everybody" to "My Contacts" or "Nobody" to limit who can add you to channels. 
Don't use unofficial Telegram apps
As you know, today there are a large number of unofficial versions of Telegram with different facilities and features, all of which are advertised with strange names. If you use unofficial versions of Telegram, you will probably face problems when joining Telegram channels. It is highly recommended to install the original version of Telegram and download the app from trusted sources.