Telegram has great privacy and encryption features turning it into one of the most popular messaging apps around the world. Telegram users can enable two-step verification on Telegram to add an extra layer of security to their accounts. If you prefer to add a password as part of the app's two-step verification, here is how to set up.
Is it possible to enable two-step verification on Telegram?
When setting up Telegram for the first time, you only need to enter your phone number and then verify it using a text message received by that number. After that there is no login or security. You simply enter your Telegram account by clicking on the app icon.
So may be asking how you can enhance Telegram's security. Is there any two-step verification? 
If you mean two-step verification, including getting a text to your phone or using an authenticator app like Google Authenticator, you must know that Telegram doesn't do this.
But you still can use this feature by adding a password for entering the account. So the second step is simply a password. This is way better than no security at all. So it is highly recommended to enable two-step verification on Telegram.
💡 Are you looking for an advanced Telegram tracking app? Install AnyControl now to monitor Telegram messages, calls and activities secretly and remotely!
Two-step verification on Telegram
Here is a full guide to enable two-step verification on Telegram.
1. Open the Telegram app and refer to the settings section. 
2. Choose "Privacy and Security".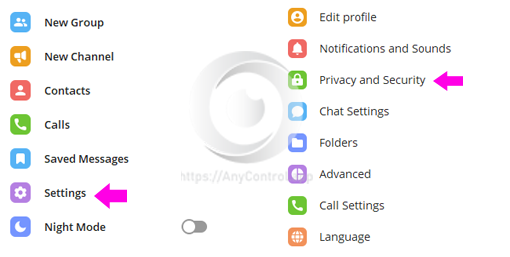 3. Tap "Two-Step Verification."
4. Choose "Set Additional Password."
5. Enter a password and confirm it then tap "Create Password."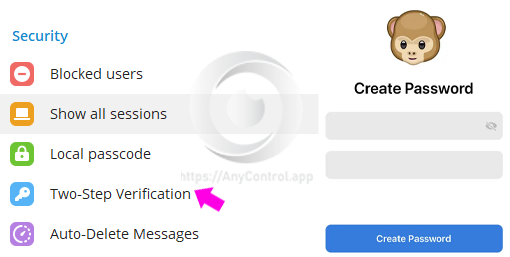 6. Now you should enter a hint to help you remember the password.
7. Then enter the email address for recovering a forgotten password and tap "Continue."
8. Telegram will send you a code via email. Enter it.
Done! You can return to the app now. 
🔵 You can skip 6, 7 and 8 steps for entering a password hint or a recovery email, but it is highly recommended to enter both, to avoid getting locked out.
🔵 Keep in mind that you can either change the two-step verification password, change recovery email, or turn the feature off in the settings menu any time you wish.