How to reinstall the old Telegram account on the new phone? In this article, we are going to discuss how to reinstall the deleted Telegram application and restore deleted telegram account. Losing access to a Telegram account can be a frustrating experience. However, with Telegram's account restoration feature, you can quickly recover your deleted account and regain access to all your valuable data. By following the step-by-step guide outlined in this article, you'll be able to restore your account and continue using Telegram seamlessly.
Why you may delete Telegram application
Before discussing how to restore and reinstall the deleted Telegram application, let us see why you may need to reinstall Telegram and restore your old account. In general, there are several reasons for deleting Telegram application from the device, which are:
 The application is accidentally deleted by the user.
 Phone apps are deleted due to viruses or malwares on the device.
 The device is stolen or lost and the user needs to reinstall the Telegram app.
Please note that Telegram accounts will be automatically deleted by Telegram in case the user is inactive for 6 months. Therefore, if you do not use your Telegram account within 6 months, it will be automatically deleted by Telegram and you will not be able to recover it in any way.
To avoid accidentally deleting your Telegram account in the future, consider the following tips:
Be cautious when navigating the settings menu to avoid accidental taps on the account deletion option.
Enable two-step verification for an added layer of security. This will require you to enter a password or PIN before making any significant account changes.
Regularly back up your chats and media files using Telegram's built-in backup feature or by exporting them to an external storage device.
🎯Also Read: How to enableTelegram two-steps verification
What happens if you delete the Telegram app
To reinstall deleted the Telegram application and access to your account, just enter the phone number of your old Telegram account, which is still active. Telegram will send the activation code to confirm the ownership of the phone number.
Here is how to reinstall Telegram:
 Download the Telegram application in Google Play Store or App Store.
 Enter the country code or you can select your country in the search field.
 Enter your active phone number.
 Telegram will send you a confirmation code that you must enter to restore your previous account.

Due to the problems that users from some countries have recently faced, in case you cannot receive the confirmation code via SMS read the rest of this article for further solutions.
Reinstall Telegram by receiving the code through phone call
Telegram has added calls for receiving confirmation codes for those users that face issues with getting text messages. Therefore, if you could not receive the code via SMS, you can choose the phone call method. 
Telegram calls you with a special number and reads you the Telegram account verification code to restore your old Telegram. You must remember or write down the code and then enter it in the Telegram application.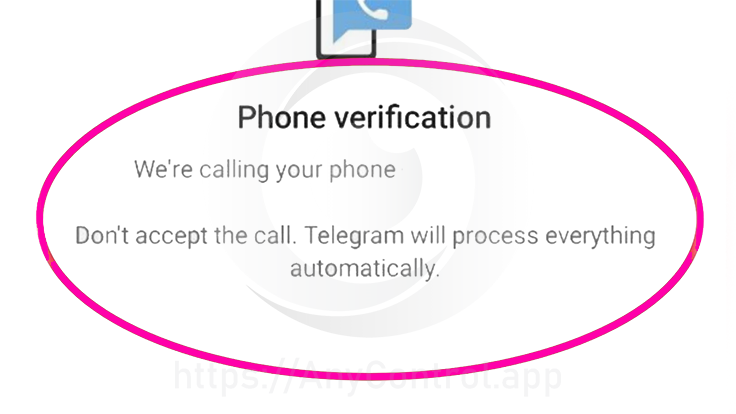 Since Telegram calling feature is active for all users in all countries, if you did not receive the call the first time, request again. However, in the following sections, there are other methods discussed.
Installing unofficial versions of Telegram
Usually, not sending the code to reinstall deleted Telegram apps is one of the common problems for some users. One of the upcoming solutions is to install the unofficial version of Telegram. These unofficial versions usually do not have a problem to receive a confirmation SMS. After receiving the SMS, restore your account on the unofficial version.
Now request the code again. The code will be sent to your account in the unofficial version of Telegram. Enter the received code in the original version so that you can restore the deleted Telegram and finally delete the unofficial version from the device. Some of these unofficial versions of Telegram are: Mobogram, Hotgram, Telegram Plus, etc.
Install Telegram on another device before deleting the app
If you plan to install Telegram on your new device, it is better not to delete this app from the previous device. To do this, just download the Telegram application and then enter the number with which you previously had an account. In such a situation, a code will be sent to your Telegram account on the old device, and you can access your account on the new one by entering the confirmation code.
You can also restore Telegram in the web version and receive the confirmation code using Telegram web and enter it in the application on the new device.
👁 Are you looking for an app to monitor your child's Telegram? Install Anycontrol now!

Restore a Deleted Telegram Account
When you delete your Telegram account, your profile, chats, media files, and contacts are all removed. However, Telegram provides a grace period during which you can recover your account. If you decide to restore your account within this period, you will be able to regain access to your previous data.
1. Open the Telegram App
Start by opening the Telegram app on your device. Ensure that you have the latest version of the app installed to have access to the account restoration feature.
2. Enter Your Phone Number
On the welcome screen, enter the phone number associated with your deleted Telegram account. Make sure you enter the correct number to proceed with the restoration process.
3. Account Recovery Options
Telegram will prompt you with the account recovery options available. You can choose between recovery via an SMS code or recovery via an email sent to your registered email address. Select the option that suits you best.
4. Verifying Your Identity
Once you choose your preferred recovery option, Telegram will send you a verification code. Enter this code in the app to verify your identity and proceed with the account restoration.
5. Account Restoration Confirmation
After successfully verifying your identity, Telegram will restore your deleted account. You will regain access to all your previous chats, contacts, and media files. Congratulations, you have now restored your deleted Telegram account!