Instagram users need an email address or phone number to sign up and create a new account on all social networks, and Instagram is no exception. But what if you linked your account to a phone you no longer use and now you no longer have access to it? The answer is very simple. If you do not have access to the previous phone number, This article offers a complete guide for how to change number on Instagram step by step. Let's get started.
Is it possible to change Instagram number without logging in?
It is necessary to add mobile number to Instagram and change it in time. So, if you forget your password, you can recover your account.
Follow this guide if you want to know how to change Instagram number from the program settings.
Log in to your Instagram account.

After Instagram login, Tap on "

Edit Profile

".

Select the option "

Personal information settings

".

Click on the phone number.

Add a new phone number and click "

Next

".

After that, you will receive an SMS notification with a 6-digit verification code to verify the phone number to your account. Enter the code in the box.

Select "

Done

".

Finally, tap "

Done

" again to complete the process of changing phone number on Instagram.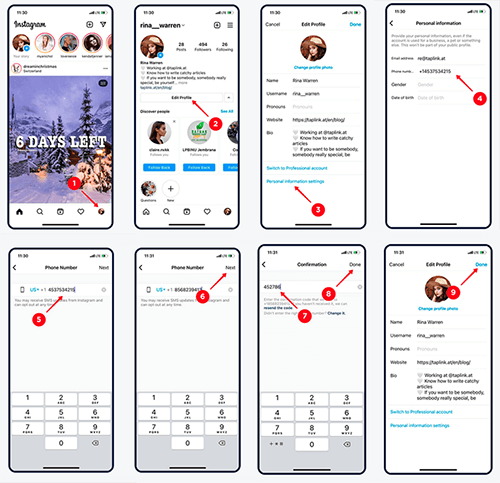 Now the process of changing Instagram number is done and a new phone number is linked to your Instagram account.
🎯Learn more: How to create an Instagram account
How to change your phone number for two-factor authentication on Instagram ?
If you have activated two-factor authentication, it is very important to change your phone number on Instagram in time so that you do not lose access to your account.
Open the Instagram app and go to your account. Tap on Profile in the bottom right corner.

Tap on the three lines in the top right corner.

Select "

Settings

".

See the "

Security

" section.

Tap on "

Two-factor authentication

".

Click on "

Text message

".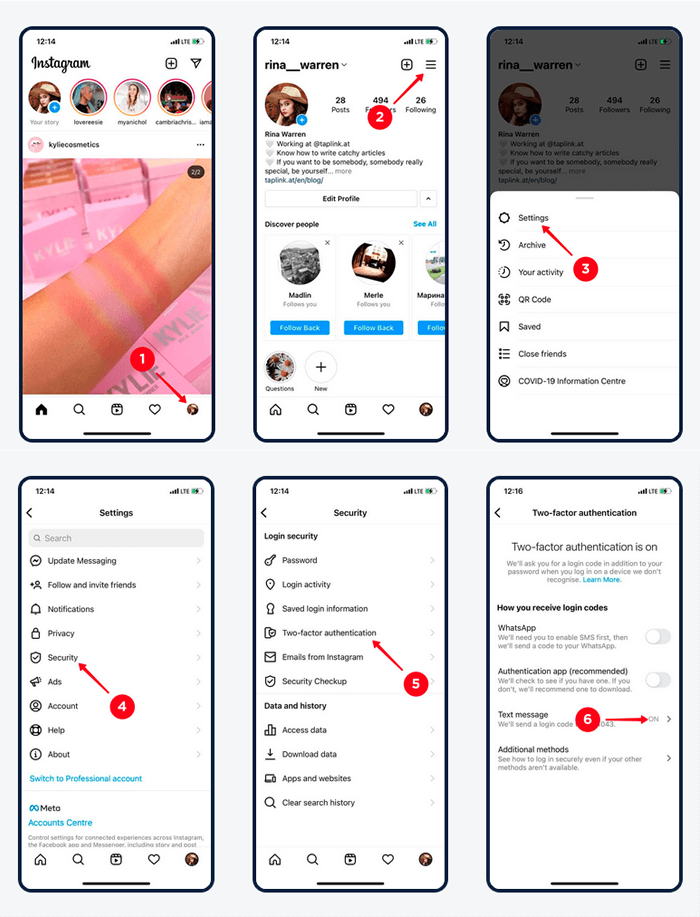 Go to "

Change phone number

".

Delete the current phone number from the box and enter the new number.

Add a new phone number and click "

Next

".

Enter the Instagram code that was sent to the new phone number in the corresponding box to confirm the new number.

Next, tap "

Next

" to confirm the number change.

Tap "

Next

" again.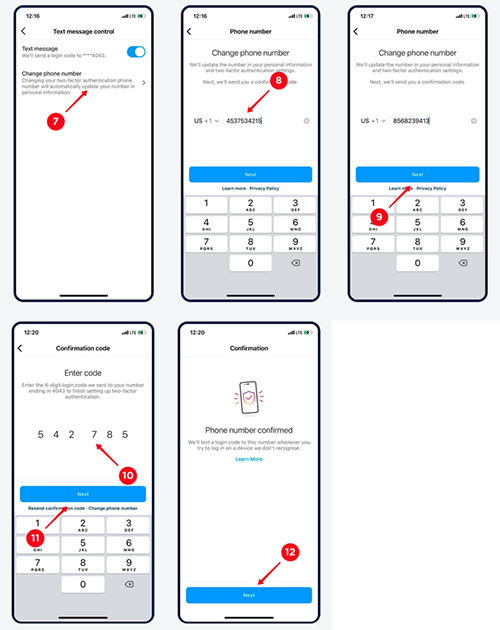 ♦️Install AnyControl instagram monitoring application to have everything you need to start tracking Instagram.
How to change Instagram phone number in the bio of business account ?
If you use Instagram as your business page, you probably have a call option in your bio. You can change the phone number you have set for it at any time.