Instagram Reels is a useful tool which allows you to share short videos with music or sound. Its music feature is very attractive, and popular sounds can help you create viral reels. Including music in your reels excites the audience's curiosity and sustains their interest until the end. Furthermore, music makes your reels more engaging and significant. No matter what kind of video you've got, whether it's a dance trend or educational video, the right background music can make a lasting impression on your Instagram feed. If you want to know how to add music to Reels on instagram, this article can assist you in boosting your content by including instagram music reels and connecting more deeply with your audience. Let's discover the magic of Instagram reels together.
Does music matter on Reels?
Music reels are an important part of making sure your content goes viral on Instagram. If you're new to creating content and you've just launched your page, the Reels tab is a great place to start. It's packed with popular songs with millions of streams. Picking the right track is essential for capturing your audience's attention. Simply explore the tab until you discover the perfect song for your video. By downloading the music of your choice and selecting a suitable track, you can skyrocket your views. That's why Instagram has made it even easier to play the music or audio you want by introducing new features like the Instagram Reels subtitle feature. Now it's easy to find a fun song to use in your reels or to discover new music.
Learning about the newest pop and hip-hop music and creating reels with these songs is a fun and highly effective way to boost views and engagement. We recommend viewing the Instagram profiles of well-known individuals and fan pages for music inspiration.
How to add music to Instagram Reel without copyright?
If you want your video to be seen by many Instagram users, the choice of music for your reels can be very important. Depending on the type of music you want to add, there are different ways you can add music to your Instagram Reels. These methods work for both iPhone and Android apps. Continue reading to learn how to add music to Instagram Reels without copyright on iPhone and Android.
How to put background music on Instagram reel?
Here are the basic steps for adding background music to a reel:
1. Open Instagram and click "Reels"
2. Choose "Audio" and select a track to use as a starting point.
3. Pick a song from the available options to add to your reel.
Here are some tips to help you get started:
🟥To find a specific song, use the search bar at the top of the screen
🟥🟧 To explore more music choices, click the "See More" tab.
🟥🟧🟨To listen to a track before including it on your Instagram Reels, just tap the play icon near it.
🟥🟧🟨🟩A click on the song name will take you to the song page.
🟥🟧🟨🟩🟦You can pick a specific part of the song by dragging the bottom bar of the screen. Instagram makes your favorite pieces pink. To add the desired part of the song to your reels, select "Done".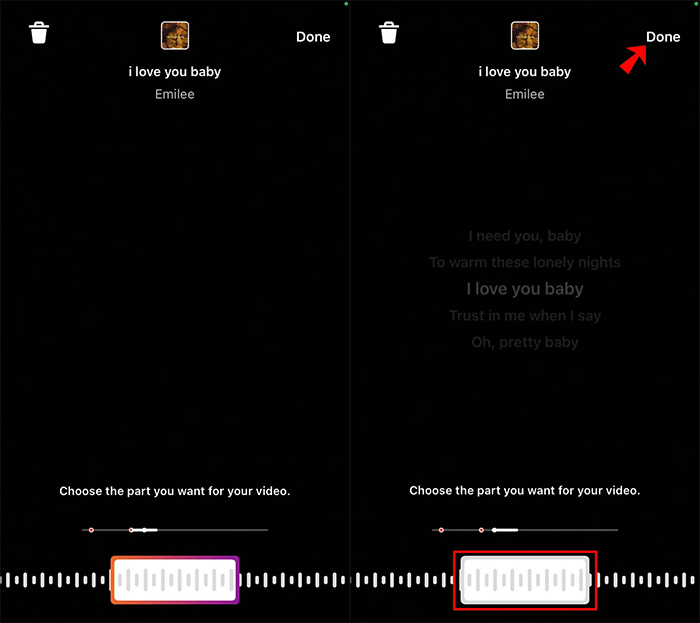 🟥🟧🟨🟩🟦🟪 After you add a song, you can tap the audio icon again to change the music or to select a different part of the song. To delete the current music, select "Delete" from the menu at the top of the screen. Then, add a new song by following the previously mentioned steps.
📌If you want to easily hack your child's Instagram accounts, visit the specified link and install anyControl monitoring software.
Add trending music on Reels
Creating reels with music from a viral video can help you get more views. Luckily, you don't have to spend time looking for songs yourself. You can simply use Instagram to add trending music on reels from other people's tracks to your own. Follow the steps below to add trending Music on Reels.
1. With the music you want to play, open the reels.
2. The name of the song will be displayed at the bottom of the reels.
3. Press on the song to apply it. A page with the music will pop up. Here you can see reels created by other people using the same music. If you want inspiration, you can take a look.
4. Tap the "Use Audio" option at the bottom of the screen to make tracks with that trending song.
5. At this point you will be directed to the "Reel Recorder" section. To use a specific part of a Reels track, select "Audio" and then tap the desired track.
6. You can also click on the "Save Audio" option instead of the previous step to save the music for future tracks.
📌What are some reasons for deleting Instagram reels? Refer to the linked article.
Make your Reels sparkle with a little music!
Use these instructions to add any song to your Instagram reels. It is important to choose trending songs on Instagram and use your creativity and taste to select and place music tracks. With this approach and a bit of luck, your next reel could become one of the most popular videos on Instagram.
Have you uploaded an Instagram Reel before? What type of music do you include? Share your response in the comments below!