Telegram is a well-known name in the encrypted messaging industry and is considered to be a feature leader. However, the developers resisted adding Telegram story feature for many years. Telegram story feature became the most popular element requested by users, and the developers eventually added it in July 2023. At first, Telegram story Android and iOS was only possible for premium accounts, but now all Telegram users have access to Telegram story free. Stay tuned to the end of this article for more information about Telegram story and how to activate it and also how to see story on Telegram.
Introducing telegram story feature
Telegram story feature is similar to stories on other social media platforms. They consist of brief videos or photos that are available to your audience for a limited time. In the case of Telegram, you can choose between 6, 12, 24, or 48 hours for the duration. After this period, your Telegram contacts will no longer be able to access the content you have posted. However, you have the option of posting stories to your profile where they remain visible until removed, similar to Instagram's highlight feature.
Telegram story feature update offer advantages over WhatsApp due to their additional features.
Knowing how to add story on Telegram, you can set privacy for each story you share, enhancing ease of use. You will know how to see story on telegram. You can share photos and videos, and view who has seen your story, a familiar feature on other social platforms. Subscribers to Telegram's premium version can also enable the story hiding mode.

🎯Telegram, like many online platforms, is not a completely child-friendly place. While it has great features, parents should be aware of the threats and dangers of misusing this messenger for children under 18! Therefore, if you are looking for the best remote Telegram hacking software, you can register at Anycontrol.
Telegram Stories Premium or free?
Many people use this popular app. Telegram is a widely-used messaging app recognized for its emphasis on user privacy, security, speed, and innovation. It has various features that can make communication more fun and easier. These features consist of bots, channels, groups, stickers, voice chats, video calls, and more.
For a long time, users demanded for Telegram stories to be activated, said Pavel Durov, the founder and CEO. He explained that although he was initially hesitant to add telegram story, as the feature is available on all platforms, he finally decided to listen to his users and now by learning how to put story on telegram, you will now be able to share cool stories with your friends on telegram.
Telegram story free is the most requested feature in the history of this program, which was first launched in June 2023. As we mentioned earlier, this feature was initially only available to users who had a Premium account, but in July 2023, it became available to all users. Now, telegram story android and iphone is available to all users, regardless of whether the user has a Premium membership or not.
💎Read more: Why should we enable passcode for Telegram?
How to add story in Telegram channel and account?
Learning how to add story on Telegram is simple. Here are the steps of how to add story in Telegram channel that you should follow:
Add story in Telegram android and ios:
Tap the camera icon in the bottom right corner of your screen. This will open the camera screen and you can access the gallery from the other side.
Tap the center button to take a photo or hold it to record a video. You can also swipe up to access your gallery and select an available photo or video.
If you want, enter your desired text in the caption field.
Tap "Next" in the bottom right corner.
Choose who should see your story and then tap "Post Story".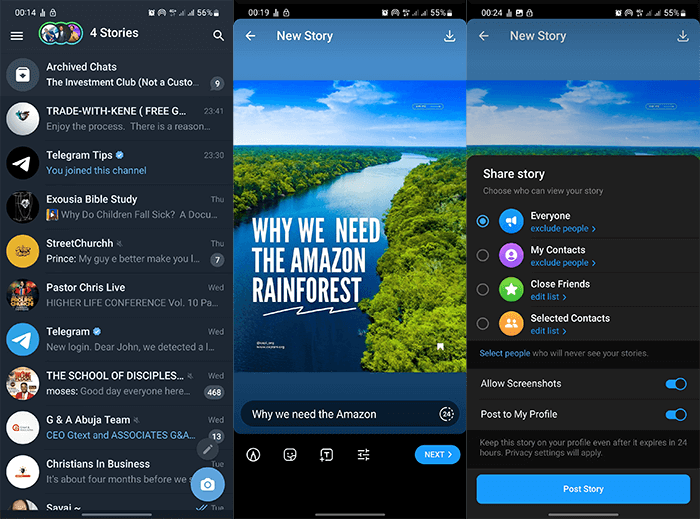 💎Read more: Delete Telegram account immediately
How to add Story on Telegram desktop
If your question is how to add story in telegram pc or how to add story on telegram desktop, follow this section.
Unfortunately, it is not possible to add story on telegram pc. The new update is unexpected because it adds stories for channels, however it does not allow their use on desktop. Users need this feature of how to add story on Telegram desktop, therefore, the feature should be available on desktop.It is highly probable that those who have channels to reach their audience will want to work on the stories they publish for other social media on their computer, not on their mobile phones. Using only a phone to post stories on Telegram prevents some users from seeing the stories.
How to edit story on telegram? (Telegram story update)
If you want to edit a story you've already posted and have a telegram story update, the following steps are for you:
Drag down your chat screen to enlarge the stories.
Tap your profile thumbnail. This will open your Telegram story.
Select the story you want to edit.
Tap the three dots.
Select "Edit Story" option.
Any changes you want to make to your story. You can add or remove stickers, text, drawings, filters and effects.
Tap "Done" in the lower right corner to save the changes.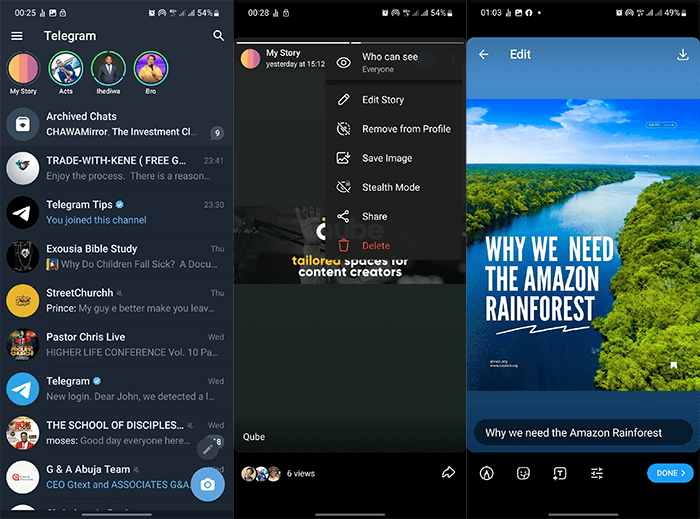 What makes Telegram Stories so special?
In addition to being a great way to share your daily life with friends and followers, Telegram Story feature sets them apart from other platforms. Here are some Telegram Story features that make telegram stories so special. Therefore, after knowing how to add story on telegram, you will feel unique using this special telegram story feature.
After sending the story, you can edit it. This is a first in the history of social media, as no other platform allows you to change any part of your story after you publish it.
You can edit the title, text, tags or anything else without having to delete and resend the Telegram story from the beginning.
You can choose when your story will be deleted. You can set your story for 6, 12, 24 or 48 hours, or you can share it with your contacts for as long as you want. That is, display it on your profile page like an Instagram highlight story.
You can add links to your story. You can include any URL in your title or text and enable clickability for your contacts.
You can tag other people in your story. You can use the username or the name of any contact or public channel in your story.
You can send photos and videos taken with both cameras at the same time. You can use the split-screen mode, which takes pictures from both the front and rear cameras at the same time.