Instagram is a widely-used social media platform that offers image sharing, video sharing, and a messaging feature for communication with friends. Within the messaging feature, the app automatically adds a "seen" tag below each message to indicate that it has been viewed. However, there are situations in which you may wish to read instagram messages without opening or notifying the other person. In order to learn how to turn off seen on instagram DM 2023, there are several practical methods to read Instagram messages without seen or the other person being aware of the instagram seen status.
Read direct messages on Instagram without seen (4 useful ways)
You may wonder how to preview Instagram messages on iPhone or android devices without seen. If you have received an Instagram direct message recently and the text is still visible in the notifications section of your phone, you can read the message without going through the screen. This can be done by simply reading the message through the notification and is simply the answer for how to read Instagram messages from notification bar.
If your question is how can I read Instagram messages without opening the chat, here is the easiest way. If the message is short, it is possible to read it in its entirety through the notification. However, if the text is too long and you're using an iPhone, you can expand it by dragging the notification to the top of the screen or long-pressing it in the notification bar.
Also, if you are using an Android device, you can view the complete message by clicking the down arrow beside the notification. Please be careful when clicking, as an accidental tap on the notification will open Instagram and mark the message as read or viewed.
As technology rapidly evolves, new methods are developed to get around limitations and add features. You may have come across a variety of applications and browser extensions that allow you to use social media in secret. Normally using these tools from a reliable source does not carry inherent risks.
💎Read more: Are you looking for a way to delete Instagram Direct messages?
In order to secretly read Instagram direct without seen, you should pay attention to the practical methods that we have discussed in the next section.
How to read instagram messages without being seen airplane mode?
One easy method to read Instagram messages without seen is to activate airplane mode on your smartphone. By turning on Airplane mode before accessing the Instagram app, messages will be downloaded, but because your phone is offline, they will not be registered as sent messages. When you are finished reading your messages, simply switch your phone back to online mode to resume normal communication.
This method ensures that messages remain unread, but you risk missing important new messages while your phone is in airplane mode. You cannot like, reply, or share posts from within the Instagram app. If you want to read Instagram direct messages without seen, follow these steps while in airplane mode - this method works for both Android and iPhone devices.
1. Log in to your Instagram account and navigate to the messages section.
2. Scroll down from the top of the screen, which displays the battery percentage, SIM card, and time, until you see several options.
3. Choose "Airplane mode" to activate it.
Enable Restrict mode for turn off read receipts instagram
Looking for a way to read Instagram messages without being seen? Want to turn off read receipts instagram DMs for someone? Try putting the desired person in restrict mode. This will convert their message into a request to send a message, making it difficult for them to realize their messages are being read. While this option may be challenging to navigate, it is effective.
This is due to the fact that Instagram message requests (that appear as requests) are always marked as unread, even if they have been read. Message requests remain marked as unread indefinitely until you accept them. Follow the steps below to read Instagram Direct messages without seen and create "instagram DM seen but not opened" mode.
1. First, go to your Instagram account and visit the profile of the follower you wish to restrict.
2. Select the three dots icon located in the top right corner and choose the "restrict" option.
3. Confirm your choice to add the user to your list of restricted accounts by selecting "restrict" again.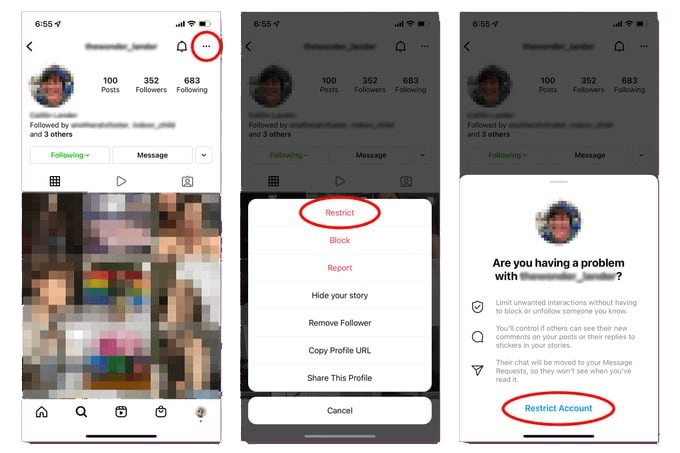 This is an easy way to know how to turn off seen on instagram dm. Now, this individual will be added to your restricted list. All messages from them will appear as message requests, allowing you to preview them before accepting. This ensures that the sender is not aware you have viewed the message, even if you have.
Turn off Wi-Fi or mobile data
Turning off your internet connection is a simple method to read Instagram messages without being seen. Nonetheless, it is less effective when it comes to viewing images or videos. Additionally, instagram seen status will be marked as soon as they are viewed. To use this technique, follow the steps below.
1. Turn off your mobile data or Wi-Fi connection.
2. Then, navigate to Instagram Directs and read the message you received.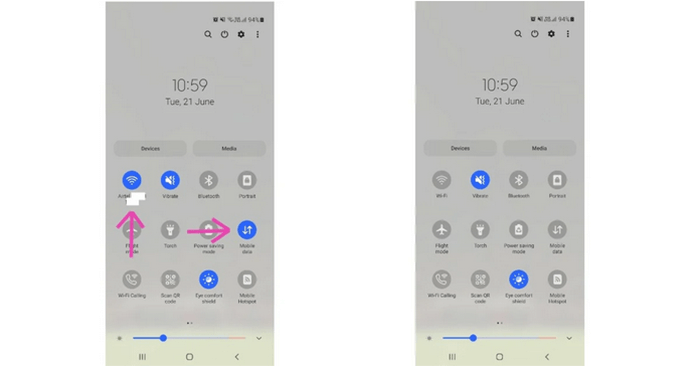 3. Next, Android users can go to Settings > Apps > Instagram > Force Stop it on their phone to stop it from running in the background. Now you can go online and the message won't be marked as seen unless you open the Instagram app.
For iPhone users, it is recommended that you remain offline until you are ready to respond to the message. Upon going online, the message will be indicated as "read."
Using third-party applications
It appears that there are now apps and services available for all things related to Instagram. These include features such as seeing who has viewed your Instagram, adding music to your reels, and viewing Instagram Story anonymously. You can even learn how to read Instagram messages without being seen.
Therefore, there are many tools available online that allow the user to read Instagram direct messages without the sender knowing. Anycontrol is one such online tool.
💎AnyControl is an Instagram tool that helps users, especially parents, monitor their children's communication on the messaging app. It provides a simple method of controlling messages without the need to hack Instagram Direct, ensuring that parents can easily access and protect their children from harm. It also hinders activity within the social network.
Summary
You can read Instagram messages without being seen, even though there aren't any rules for doing so. In other words, you can create instagram dm seen glitch. To accomplish this, you can use notifications, user restrictions, email inboxes, third-party applications, and by turning off your internet. If you know any other ways on how to read instagram messages without being seen on android and iphone, please write them in the comment section for us.