Communicating with others is the main purpose of social media platforms. Apps like Facebook, TikTok, and Instagram allow users to interact with their favorite influencers, friends, and loved ones across the world. Have you ever thought about how to find your contacts on Instagram to follow them or even block them? Is it possible to find Instagram account by phone number? Read the rest of this article to learn about methods and tricks.

How to Find Instagram Account by Phone Number?
The most common way to find someone on Instagram is to search their name or ID. One of the interesting features of Instagram is that the platform allows you to find your contacts on Instagram by their phone number. So if you have saved someone's phone number in your phone you can easily find their Instagram account.
To find contacts on Instagram by phone number on Android and IOS, can follow the instructions below.
How to Find Contacts on Instagram Android
1️⃣Open the Instagram app and log in to your account.
2️⃣Go to your profile page.
3️⃣The "Discover people" option on Android is usually visible on your profile page, next to the "Edit profile" and "Share profile" options. If you don't have this option, you can select the icon in the same section as you can see in the photo.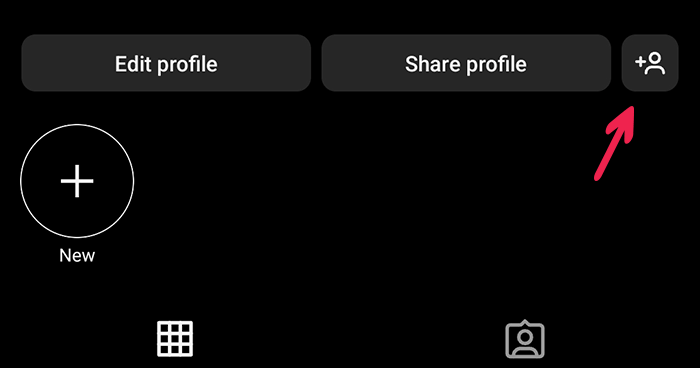 4️⃣Then select the "See All" option from the right side of your screen.
5️⃣Tap "Connect to Facebook" or "Connect contacts" at the top of the screen, then select "Allow access" in the window that opens.
6️⃣Now you can choose the blue "Follow" option to follow the displayed contacts.
📌 Use AnyControl to monitor someone's Instagram direct messages remotely and secretly.
How to Find Contacts on Instagram iPhone
To find an Instagram account with phone number on iPhone, follow the instructions below:
Open Instagram app and login to your account.
Tap your profile icon in the bottom right.
Select the hamburger icon or the three horizontal lines stacked on top of each other. Find and enter "Discover people" from the drop-down menu.
Select the "See All" option.
Select "Connect to Facebook" or "Connect contacts". From the window that opens, select "Allow access". Now, all the suggested contacts will appear.
⚠️ How to know if someone blocked you on Instagram
Find Contacts on Instagram Not Working
Some users on Instagram face the issue that finding contacts on Instagram is not working. Note that you need to give Instagram permission to access your contacts in the first place. In this section, we are going to discuss how to find Instagram account with a phone number in the new version.
Log in to your Instagram account.
Enter the settings on the profile page and select "Account".
Select "Contact Syncing".
Then toggle the "Connect contacts" switch.
Now, you can see a list of your contacts that have created an Instagram account with their phone number.
⁉️If these options are not visible to you, you can use the following method:
1. Login to your Instagram account and enter settings.
2. Select the "Account Center" option.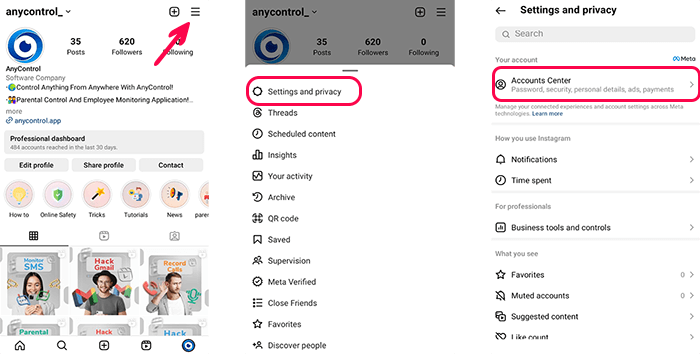 3. In the Meta main page, you select the option "Your information and permissions".
4. At the end, select the "Upload contacts" option and toggle the "Connect contacts" switch.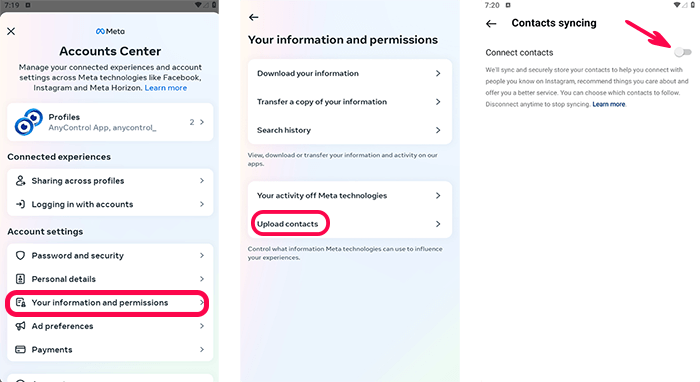 How to Invite Your Contacts to Instagram?
If you can't find your contacts through the methods mentioned earlier, maybe they have not joined Instagram. In this case you can directly send them the invitation link. To do so follow the steps below.
1. Log into your Instagram account and go to your profile.
2. Tap the hamburger menu in the upper right corner of the screen to open the menu.
3. Select "Settings".
4. Select "Follow and invite friends".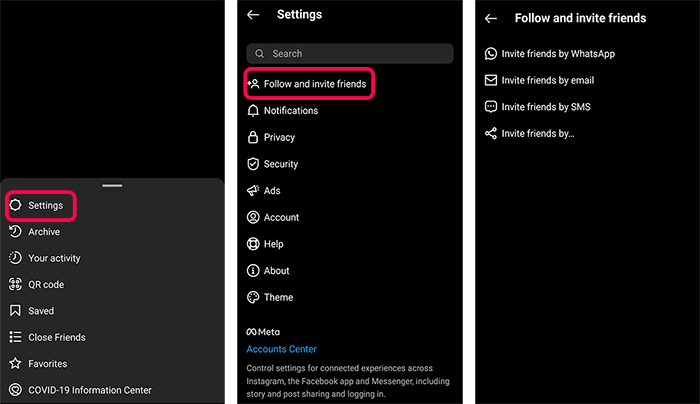 5. Then you can share the invitation link with your contacts in any way you like.
How to Turn Off Contact Syncing on Instagram
Did you allow Instagram to access your contacts when you first registered and now you want to turn off contact syncing? This will stop your contacts from syncing with Instagram, but note that it won't remove contacts that have already been synced.
1. Login to your account and go to the profile page.
2. Tap on the profile three line icon to open the menu then tap on "settings and privacy".
3. Tap on "Accounts Center".
4. Choose"Your Information and Permissions".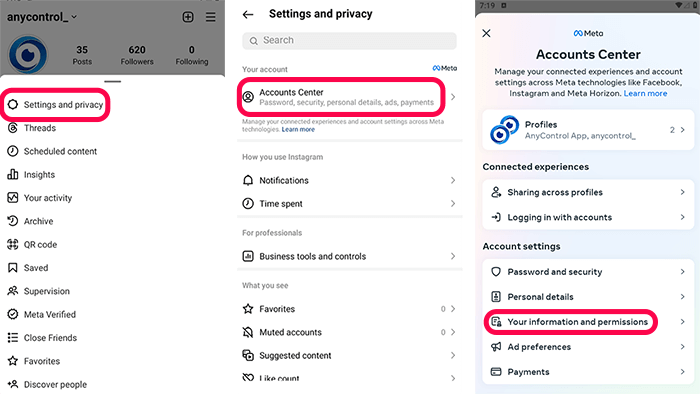 5. Tap "Manage Contacts".
6. Toggle the switch next to Connect Contacts to turn off contact syncing.