Do you want to learn how to start a YouTube account? YouTube is the world's largest video sharing platform, which has become popular with easy and accessible video upload options in a few simple steps. More than a billion people use YouTube right now—almost one third of all people on the Internet. You too can join the ranks of YouTubers. In this article, we will give you instructions on how to create a YouTube account to watch thousands of videos and of course create Youtube channel for income. So continue with us for the rest of this article.
How to create YouTube account?
Creating a YouTube account is free, fast and super easy. The process of signing up for a YouTube account is fairly simple, although it can be considered as complicated as well because Google owns YouTube and links the two together for sign up purposes.Therefore, you must have a Google account to create your own YouTube account.
To create a YouTube account, just follow the guide below step by step:
1️⃣Navigate to the main YouTube website in your browser and select the "Sign In" option at the top of the screen to go to the main form.
2️⃣Then click on "Create Account". You can create an account for yourself or to start your own business.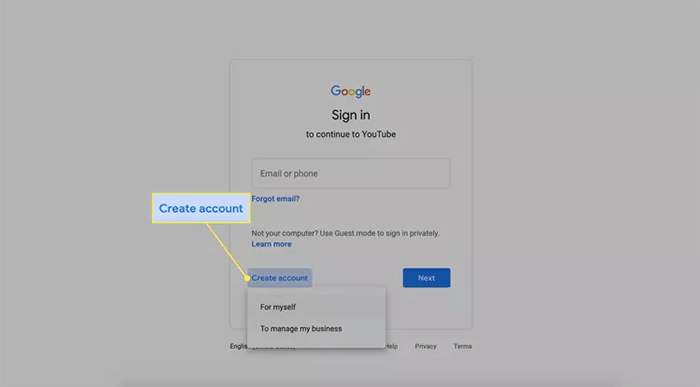 3️⃣Enter a name, password and email address to verify your identity and finally click on "Next" to complete the process of creating a YouTube account for income.
📍For more: How to create Twitter account
Why can't I create a youtube channel?
If you receive the error "This action isn't allowed" when creating a YouTube channel with your phone, you may be using an old version of the YouTube app.
Here are some tips in order to fix this problem:
🔺Update the YouTube app on your device.
🔺Open your YouTube channel using a browser on PC or computer