Are you looking for new ideas, inspiration, or places to visit? With only a few clicks you can find anything on Pinterest. This app is a great choice for those who love visual ideas. Millions of media content with different topics, interests and hobbies are available on this platform. Now, if you plan to use this application, you can follow this article to learn how to install and download Pinterest for iPhone and Android.
What Exactly Is Pinterest Used For?
Like any other social media channel, Pinterest allows you to perform the general functions of a social network. It allows users to share images that are associated with unique goods and services. Pinterest app has exceptional organization functionality. It's like a web-based bulletin board. You can search and follow your friends or other people and view their profile. You can also sort each account according to the nature of the images, like content shared by other users, and comment on its content.
For example, to create a recipe Pinterest board, browse through Pinterest to find images of delicious dishes you want to try, then click the image to find its recipe and instructions. Save, or pin, that recipe to your recipe board to access it when you want.
How to download Pinterest for iPhone and Android?
To get started with this amazing app, download and install Pinterest on iPhone and Android with this step by step guide. You can have a personal or business Pinterest account and start searching and interacting with other users in the shortest time!
Download Pinterest for iPhone
Open the official App Store and go to the "

Search

" section at the bottom of the screen.

As shown in the image below, type and search for "

Pinterest

" .

Then tap "

Get

" to download Pinterest for iPhone.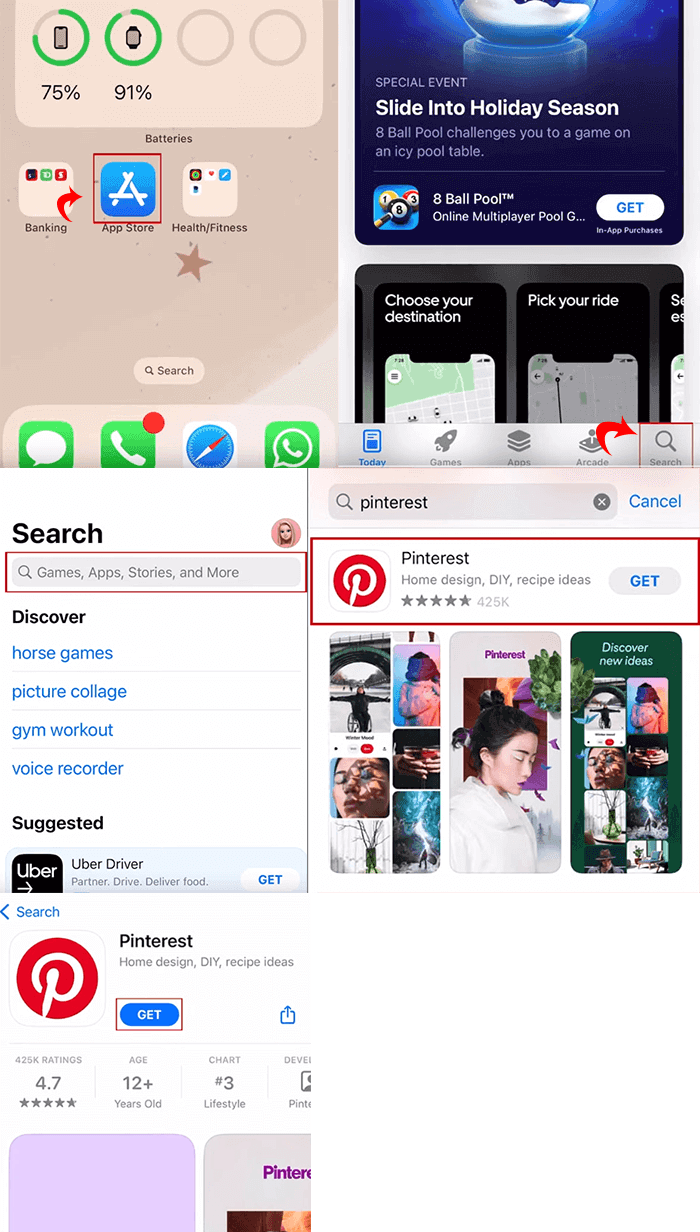 Download Pinterest for Android
First, go to Play Store.

In the search box, type "

Pinterest

" and search.

Finally, click on "

Install

".

🔺How to Delete Pinterest Account permanently or Temporarily Deactivate Pinterest Account?
Step-by-step tutorial on how to install Pinterest
In order to get insight into how to install Pinterest and answer the question of how to activate Pinterest, continue with us to learn how to create a user account on Pinterest step by step with three methods.
🔺Create a user account on Pinterest by entering email, password and other personal information
🔺Installing Pinterest via Facebook account
🔺Login to Pinterest with Google
We will go through all of these one by one.
Install Pinterest Directly
After downloading the Pinterest app, click on "

Sign-up

".

Now a window will open asking to select the option to register. Here, if you want to create a direct account, enter your email in the first box. In the second box, write your password (make sure your password is strong enough that no one can easily guess it). Enter your date of birth in the third box and click "

Continue

".

After that, a new window will open and ask about your gender.

Then the last window will appear asking about the category you are interested in. Choose your interests from the list given. Remember that your homepage will be displayed based on the interests that you have categorized. But don't worry, you can change this information at any time.

After choosing your interests, your account will be created and your homepage will appear according to the category you have chosen.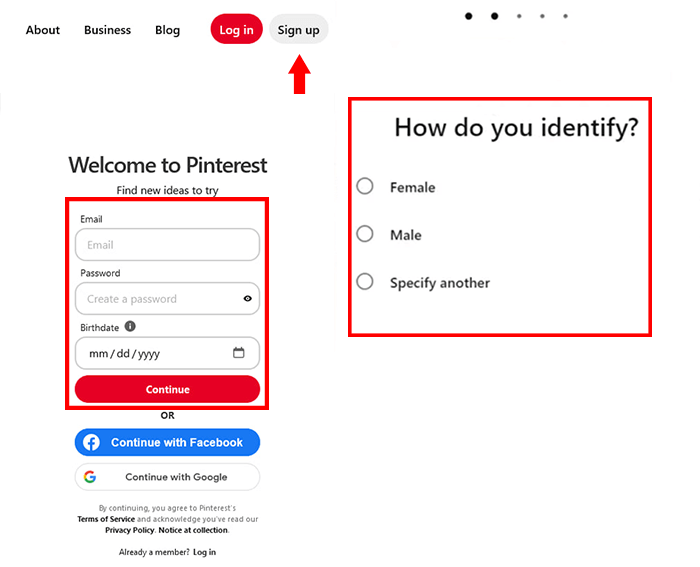 Create a Pinterest account via Facebook
You can create an account with your Facebook email address or you can link your Facebook account to your Pinterest account.

To create a Pinterest account with a Facebook account, go to the Pinterest website or app and press the Sign Up button in the upper right corner of the screen.

Now select "

Continue with Facebook

" here.

A new window will open where you have to enter your Facebook account and password and finally click on "

login

".

Pinterest will then ask you the usual questions like gender and language as above, from which you can choose from the available options.

Pinterest account is now created with your Facebook account.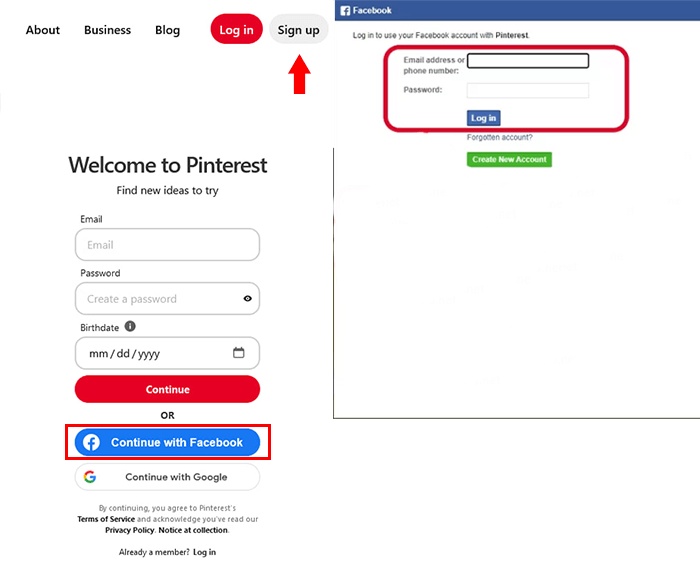 Login to Pinterest with Google
You can use your Google email address to install Pinterest.

To create a Pinterest account with a Google account, go to the mobile application or the official website of Pinterest and click on the "

Sign-up

" option.

To create a Google account, select "

Continue with Google

" from the list.

After clicking, a new window will open asking about your Google account.

After writing the email address to which your Google account is connected, it will ask you again for your account password.

Signing into Pinterest with Google is done!