WhatsApp has become one of the most popular messaging platforms worldwide, making it crucial for parents, employers, and individuals to monitor its usage for various reasons. WhatsApp spy apps have emerged as a solution to this need. Considering the security measures used by WhatsApp is it still possible to spy on it? Yes it is. You can use AnyControl to spy on someone's WhatsApp remotely and secretely. Read the article to learn more about these tools and figure out which of them is the best!
How to Spy on Whatsapp Messages Remotely
It is possible to spy on WhatsApp messages with a spy app. These apps are specifically designed to monitor and track activities on a target device, often with or without the device owner's knowledge or consent.
To begin spying WhatsApp messages, you need physical access to the target device for a brief moment. If anyone could ever spy on WhatsApp remotely the security of this platform was known to be so weak and no one would ever use it.
So although it is not possible to get into WhatsApp servers but an advanced monitoring app allows you to spy on someone's Whatsapp!
You'll typically need to download and install the spy app directly on the device you want to monitor. Once installed, the spy app runs discreetly in the background, often without the device owner's awareness. It collects data from various sources, such as WhatsApp chats, call logs, multimedia files, and more. This data is then uploaded to a secure server controlled by the spy app provider.
You can access the collected data remotely through a web-based dashboard or a dedicated app provided by the spy app service. To do this, you'll need login credentials provided during the setup process. This dashboard provides real-time access to WhatsApp messages and other monitored activities.
The spy app may offer various WhatsApp tracking features, such as reading text messages, viewing multimedia files (photos and videos), checking call logs, and even tracking the time and date of conversations. Some advanced spy apps may also provide access to deleted messages if they were backed up before deletion.
As mentioned earlier, to avoid detection, spy apps often operate in stealth mode, making them less likely to be noticed by the device owner. This means they don't appear as visible apps or icons on the target device.
It's important to note that the legality and ethical considerations surrounding the use of spy apps vary widely by jurisdiction. In many places, using these apps without the explicit consent of the device owner can be illegal and a breach of privacy rights. Therefore, it's crucial to understand and adhere to the laws in your region and only use such apps responsibly and ethically, such as for parental monitoring of minors or workforce monitoring with appropriate consent.

✅ If you are tired of fake and complicated methods to hack Whatsapp you can try AnyControl free trial to spy on someone's Whatsapp remotely and secretly.
What is Whatsapp Spy App?
A WhatsApp spy app is a type of software or application designed to monitor and track activities on the WhatsApp messaging platform. WhatsApp is a widely used instant messaging app that allows users to send text messages, make voice and video calls, and share multimedia files. WhatsApp spy apps are used to secretly monitor the conversations, calls, and other interactions that occur on a target user's WhatsApp account.
As mentioned earlier, these mobile phone spy apps are installed on the target device, such as a smartphone or tablet, either with or without the device owner's knowledge and consent. Once installed, they run discreetly in the background, collecting data from WhatsApp and other activities on the device. This data is then sent to a remote server, where it can be accessed by the person or entity monitoring the target device.
WhatsApp spy apps offer various monitoring features, including reading text messages, viewing multimedia files, tracking call logs, and sometimes even accessing deleted messages. They are often used for purposes such as parental control, employee monitoring, or in cases of suspicion of infidelity.
Why Do You Need a Whatsapp Spy App
Using a WhatsApp spy app can be a sensitive and controversial decision, and it's essential to have clear and justifiable reasons for considering such a tool. Here are two common scenarios where someone might feel the need for a WhatsApp spy app:
🟢 Parental Concerns: Parents may consider using a WhatsApp spy app to ensure the safety and well-being of their children in the digital age. With the proliferation of smartphones, children are exposed to various online risks, including cyberbullying, inappropriate content, and contact with potential predators. Spying onWhatsApp messages and conversations can provide parents with valuable insights into their child's online interactions, helping them identify and address any concerning behavior or situations promptly. It can also be a means of verifying that their children are not engaging in harmful activities or being negatively influenced by peers.
🟢 Employee Monitoring: Business owners and employers may find WhatsApp spy apps valuable for ensuring productivity, security, and compliance within their organizations. By monitoring employees' communication during working hours, employers can identify potential leaks of sensitive company information, detect instances of insider threats, and prevent unauthorized sharing of confidential data.
This type of monitoring can also help companies ensure that their employees are using company-provided devices responsibly and professionally, thereby maintaining a productive and ethical work environment. However, it's crucial for employers to establish clear policies regarding monitoring and obtain informed consent from employees when applicable to respect their privacy rights and legal obligations.
🟢 Catching out a cheater: Catching a cheater using WhatsApp spy apps is one of the controversial but often emotionally charged scenarios where such tools are considered. When there are suspicions of infidelity in a relationship, individuals may turn to these apps in an attempt to gather evidence and confirm their doubts. WhatsApp, as a widely-used messaging platform, can be a source of incriminating conversations and evidence of cheating behaviors. By monitoring the target's WhatsApp activity, users can potentially discover incriminating messages, calls, or multimedia files that support their suspicions. However, it's important to approach this situation with care and sensitivity, as well as to consider the ethical and legal implications involved. Respect for privacy and a clear understanding of the laws governing surveillance are crucial, even in cases where suspicions of infidelity run high. Communication and seeking professional advice or counseling are often healthier ways to address relationship issues rather than resorting to spy apps.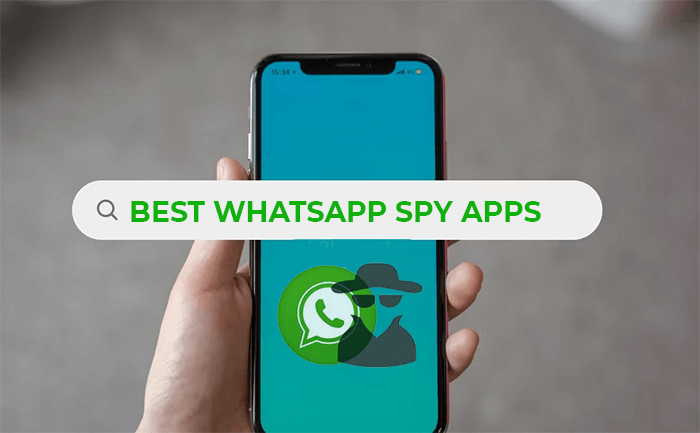 5 Best Whatsapp Spy Apps
WhatsApp spy apps play a crucial role in monitoring and safeguarding your loved ones or your business interests. The top 5 WhatsApp spy apps mentioned here – AnyControl, mSpy, eyeZy, Hoverwatch, and iKeyMonitor – each offer unique features and capabilities to cater to various monitoring needs.
AnyControl
AnyControl is a comprehensive monitoring solution that goes beyond WhatsApp spying. It offers a range of features designed for parental control and employee monitoring. With AnyControl, you can track messages, multimedia files, call logs, and even location. It also provides a web filter and app blocker to limit access to inappropriate content or time-wasting applications. The user-friendly dashboard makes it easy to access and analyze the collected data.
🟢 Pros:
Real-time monitoring of messages, calls, and multimedia files.
Supports both Android and iOS devices.
Provides geolocation tracking.
User-friendly interface.
Offers free trial.
🟠 Cons:
The free trial has limited time.
The ios version is not available yet.
mSpy
mSpy is a well-established name in the world of mobile monitoring apps. It offers robust tracking capabilities along with features like call monitoring, text message tracking, and GPS location tracking. mSpy is compatible with both Android and iOS devices and allows you to remotely monitor activities in real-time. Its keylogger feature enables you to capture every keystroke made on the target device, providing comprehensive insight into chats and passwords.
🟢 Pros:
Comprehensive monitoring, including text messages, multimedia, and call logs.
Works on Android and iOS.
Offers keylogging and GPS tracking.
Provides a comprehensive control panel for easy navigation.
24/7 customer support.
🟠 Cons:
Premium features can be expensive.
May require a rooted or jailbroken device for full functionality.
eyeZy
eyeZy is a relatively new entrant to the WhatsApp spy app market, but it's quickly gaining recognition for its powerful features. With eyeZy, you can monitor messages, media files, and tracking call logs. It also offers geofencing capabilities, enabling you to set up virtual boundaries and receive alerts when the target device enters or leaves specific locations. Additionally, eyeZy's user-friendly interface makes it easy for users of all levels to navigate and utilize its features.
🟢 Pros:
Monitors WhatsApp messages, chats, and call logs.
Easy to install and use.
Compatible with Android devices.
Provides real-time updates.
Affordable pricing plans.
🟠 Cons:
Limited iOS support (no WhatsApp monitoring for non-jailbroken devices).
Lacks some advanced features offered by competitors.
Hoverwatch
Hoverwatch is another reliable WhatsApp spy app with a strong focus on tracking instant messaging activities. It allows you to monitor messneger chats, multimedia files, and call history. What sets Hoverwatch apart is its stealthy mode, which ensures that the app remains hidden on the target device. This makes it particularly suitable for parental control and employee monitoring. Hoverwatch also offers a web-based dashboard for easy access to the collected data.
🟢 Pros:
Records WhatsApp messages, media files, and call logs.
Offers a free trial period.
Supports Android, Windows, and macOS devices.
Stealth mode for discreet monitoring.
Competitive pricing.
🟠 Cons:
No iOS support.
May require physical access to the target device for installation.
iKeyMonitor
iKeyMonitor is a versatile monitoring solution that covers WhatsApp and a wide range of other applications. It offers features like chat monitoring, keylogging, call recording, and screen capturing. iKeyMonitor is compatible with both Android and iOS devices, and it provides real-time updates on WhatsApp conversations. The app is designed with security in mind, ensuring that the target user remains unaware of its presence.
🟢 Pros:
Monitors WhatsApp chats, calls, and keystrokes.
Compatible with Android and iOS devices.
Offers keyword alerts and screenshots.
Provides a user-friendly online dashboard.
Excellent customer support.
🟠 Cons:
Premium features come at a higher cost.
Some advanced features require a rooted or jailbroken device.
How to Stop Someone from Spying your Whatsapp
Protecting your WhatsApp account and preventing someone from spying on your WhatsApp messages and activities requires taking several security measures to safeguard your privacy. Here are steps you can take to stop someone from spying on your WhatsApp:
Secure Your Phone: Ensure that your phone is locked with a strong PIN, password, or biometric authentication (such as fingerprint or face recognition). This will prevent unauthorized physical access to your device.
Enable Two-Step Verification: WhatsApp offers a two-step verification feature that adds an extra layer of security to your account. To enable it, go to WhatsApp settings > Account > Two-step verification > Enable. Set a PIN that only you know, and provide an email address for account recovery.
Check for Spy Apps: Regularly scan your device for any suspicious or unauthorized apps. Spy apps often run in the background, so look for any unusual or unfamiliar apps in your app list. You can also use mobile security apps to detect and remove spyware.
Secure WhatsApp Web: If you use WhatsApp Web on a computer, make sure to log out of sessions when you're done using it. You can do this by clicking on the three dots in the top-right corner of the WhatsApp Web interface and selecting "Log out."
Be Wary of Sharing Verification Codes: Never share your WhatsApp verification code with anyone, as this can be used to access your account. WhatsApp will never ask you for this code.
Avoid Using Public Wi-Fi for WhatsApp: Public Wi-Fi networks can be less secure. If possible, use your mobile data when using WhatsApp, especially for sensitive conversations.
Regularly Update WhatsApp: Keep your WhatsApp app up to date with the latest version, as updates often include security patches and bug fixes.
Review App Permissions: Regularly review the permissions granted to WhatsApp on your device. Go to your device's settings > Apps > WhatsApp > Permissions (or App Permissions) and review which permissions the app has.
Check WhatsApp Web Devices: In WhatsApp, go to WhatsApp Web (found in the settings menu) to see a list of devices connected to your account. If you see any unfamiliar devices, log them out immediately.
Enable Fingerprint or Face Unlock for WhatsApp: Some smartphones offer the option to lock WhatsApp with your device's fingerprint or facial recognition. Enable this feature for an added layer of security.
Educate Yourself: Stay informed about the latest security threats and WhatsApp vulnerabilities. Being aware of potential risks can help you take preventive measures.
Remember that while these steps can help protect your WhatsApp account from spying, no method is entirely foolproof. It's essential to stay vigilant and use best practices for online security to protect your privacy effectively.