PayPal is a widely used online payment platform that allows users to make transactions and subscriptions effortlessly. However, sometimes users may find themselves subscribed to automatic payments for services they no longer need or want. If you're one of those users, don't worry - canceling automatic payments on PayPal is a straightforward process. In this article, we'll guide you through the steps to cancel PayPal automatic payments for any subscription quickly.
How to Stop Automatic Payments on PayPal
To cancell automatic payments on PayPal and manage PayPal automatic payments follow the instructions below step by step.
1. Log into Your PayPal Account
The first step to canceling automatic payments is logging into your PayPal account. Go to the official PayPal website and enter your login credentials - your email address and password. Make sure you are logging into the correct account associated with the automatic payment you want to cancel.
2. Access the Settings
Once you're logged in, navigate to the top right corner of the screen where you'll find a gear icon. Click on this icon to access your account settings. From the dropdown menu, select "Account Settings" to manage PayPal automatic payments.
3. Click on "Payments"
Within the Account Settings menu, look for the "Payments" tab. Click on it.

4. Manage Automatic Payments
Under the Payments menu, you will find an option labeled "Manage automatic payments." Click on this option to view a list of your active automatic payments.
5. Select the Subscription to Cancel
In the Manage Automatic Payments section, you will see a list of merchants or services to which you are subscribed for automatic payments. Find the subscription you want to cancel and click on it. This will open the subscription details.
6. Cancel the Automatic Payment
Within the subscription details, look for an option to cancel the automatic payment. The wording may vary slightly, but it is typically something like "Cancel," "Cancel Automatic Billing," or "Cancel Subscription." Click on this option.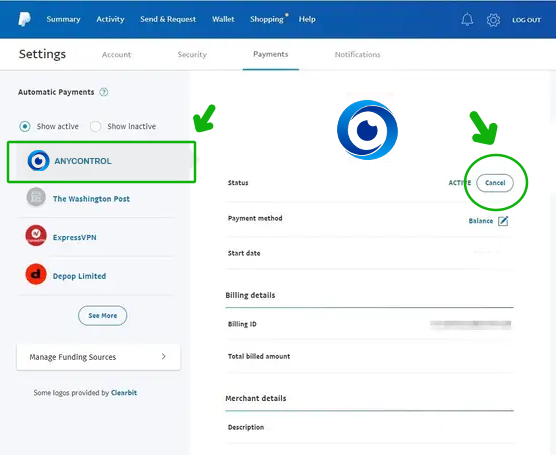 7. Confirm the Cancellation
After clicking on the cancel option, PayPal may ask you to confirm your decision. Review the information to ensure you are canceling the correct subscription, then confirm the cancellation.
How to Cancel Automatic Payments on PayPal App
If you are using PayPal application and you want to cancel the automatic payment and subscription within the app follow the steps below.
Open PayPal app.
Go to "Wallet".
Tap "Automatic Payments".
Tap on the merchant name.
Tap Remove PayPal as your payment method.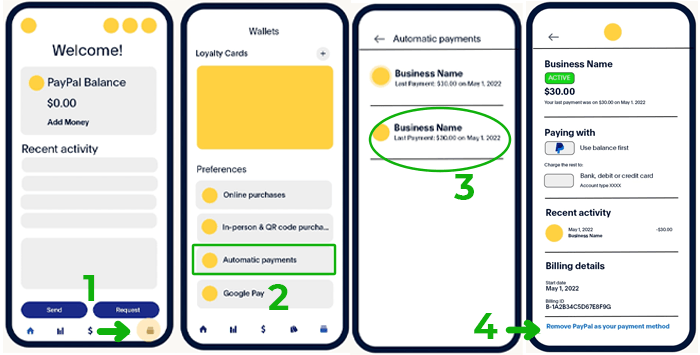 How to Stop AnyControl Subscription on PayPal
First of all we are sorry to hear that you are no longer going to use our app. But you can always cancel your subscription to avoid unwanted charges. Canceling PayPal automatic payments is a straightforward process that can be completed in just a few minutes. By following these steps mentioned in the article, you can take control of your subscriptions and avoid unwanted charges.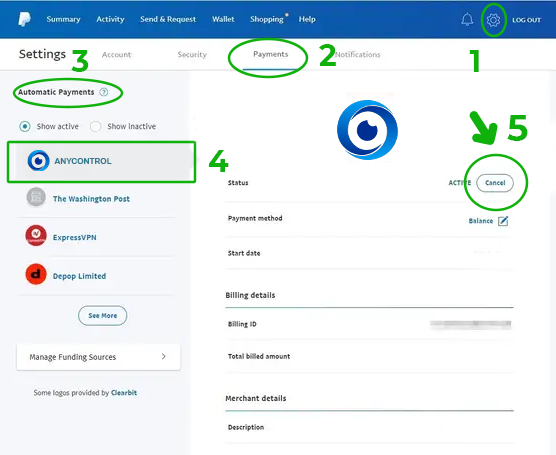 Always remember that you can come back for AnyControl at any time. Leave us a review under this post or on Trustpilot to share your experience with other users and help us improve our services.